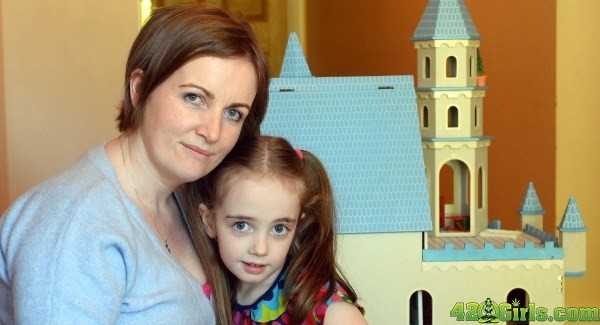 Vera Twomey's daughter, Ava, suffers from Dravet syndrome which is a rare but severe form of epilepsy that hampers people's cognitive development and requires those with the affliction in need of round-the-clock care due to the frequency of the seizures they suffer.
While Ms Twomey has managed Ava's symptoms over the past month with the use of Charlotte's Web, an oil that is legally available in Ireland, she says legislation is needed for her daughter to receive the medicines she needs long term.
"Charlotte's Web has had a fantastic impact. She went 11 days with no seizures, then had two on October 13, and now has gone five days without one," said Ms Twomey.
"That mightn't sound like much, given she's had two seizures, but she would have 102 in a month before now.
"People have no idea. To be able to put on her uniform and send her to school, she's not wrecked looking anymore, she's talking more, she's brighter every day.
"I would say it has been life-changing. We have spent nearly seven years now trying to tackle her seizures. It has been like a curtain opening before our eyes," she said.
However Ms Twomey fears the effects of Charlotte's Web will wear off in time and that stronger medicinal products containing tetrahydrocannabinol, which is not available in Ireland, will be needed.
She said: "If Charlotte's Web doesn't work in the coming months we will need something with tetrahydrocannabinol and we will be stuck. We can't get that without breaking the law."
In July, People Before Profit TD Gino Kenny introduced the Cannabis for Medicinal Use Regulation Bill 2016 to the Dáil – proposed legislation that Ms Twomey hopes will be passed.
She said: "It would allow certain circumstances where people like us can get what we need when we have tried every other conceivable alternative."
News Moderator: Katelyn Baker [URL="http://www.420magazine.com"]420 MAGAZINE ®[/URL]
Full Article: [URL="http://www.irishexaminer.com/ireland/mother-seeks-prescribed-cannabis-for-daughter-426426.html"]Mother Seeks Prescribed Cannabis For Daughter[/URL]
Author: Joe Leogue
Contact: news@examiner.ie
Photo Credit: Denis Scannell
Website: [URL="http://www.irishexaminer.com/"]Irish Examiner[/URL]