420Girls.com is a Division of 420 Magazine

420 MAGAZINE - Creating Cannabis Awareness Since 1993
<br>
420 Girl of the Month receives all of these great prizes from our Sponsors!
420 Girl Prize Package Valued at $420.00
Global Hemp gives the following to each 420 Girl of the Month
Hempz Herbal Moisturizer, Hempz Ultra Dark Tan Maximizer, The Merry Hempsters Peppermint Hemp Lip Balm and Nature's Path Hemp Plus Organic Brownie Mix!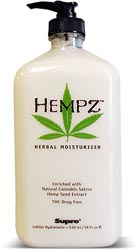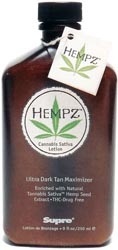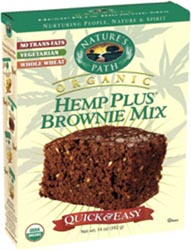 http://www.globalhemp.com
Vapor Store gives a Vapor Genie Pipe to each 420 Girl of the Month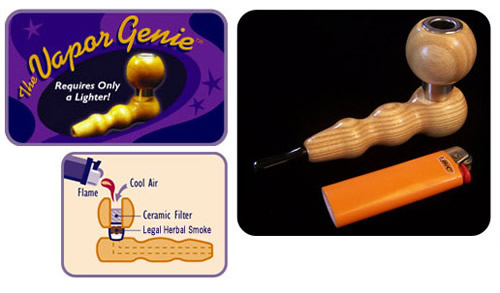 The VaporGenie uses a lighter or match and is completely portable. You can take it anywhere. It fits in your pocket. The VaporGenie is not electronic. It is simple to use and reliable. The Vapor Genie has an inert, high temperature ceramic filter that prevents the flame from contacting your herbal blend. The filter mixes cool air with flame to provide gentle heat for vaporization. The filter is 100% inert, does not contain metals and will not contaminate your vapor. The filter does not deteriorate or burn, and will never need replacement. The VaporGenie will not become clogged with tar, as very little tar is produced by vaporization. The VaporGenie is guaranteed against product defects for life. It is a high-quality, durable product that will provide you with many years of satisfying vaporization.
Please visit their shop for more Vaporizers
http://www.VaporStore.com
Stoner Trivia gives the following to each 420 Girl of the Month
Stoner Trivia donates a fun 420 related card game to every 420 Girl of the Month valued at $19.99

Please visit their online shop to see more information about this neat little 420 novelty item.
http://www.stonertrivia.com
Koota Game gives the following to each 420 Girl of the Month
Koota is Aussie for best and is the latest in novelty board games to hit the bong smoking market, at last a cool game you can share with your buddies that lasts a life time. The Koota is the game that "tests your Karma", according to Sue, the games creator, it's the best way to share your cones and enjoy a few hours with ya mates. "It's really easy to learn as it's a basic roll the dice and follow the instructions on one of the 63 game squares, buy and sell kilos of Koota for cash and or credit to become the richest dude and winner of The Koota game. Along the way, if ya miss a turn, you'll just have to "pack everyone a cone", everyone's a winner with The Koota Game".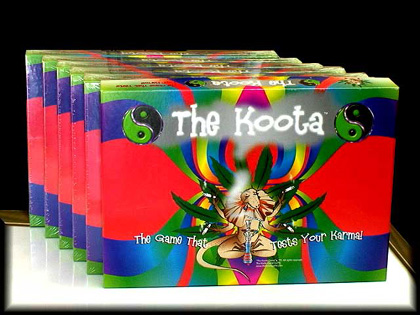 At around $50 it's also great value and keep you playing for years to come.

The Koota game is available on the web and all good Head shops.
http://www.thekootagame.com
Small Axe gives the following to each 420 Girl of the Month
Small Axe has created a brilliant rolling tray designed to fit on your lap also known as a Suru Board. The Suru Board is an excellent platform for storing, rolling and sorting your herbs that is unmatched by any other product on the market.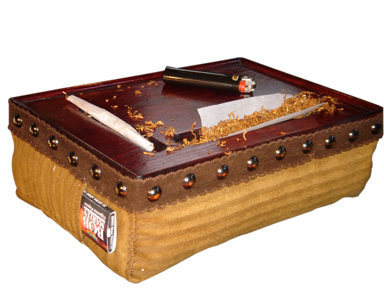 The two slots on both sides make it very convenient to store my lighter, papers and other such smoking accessories. What I find to be the best feature is the padded bottom (made of soft beads on the inside and suede feel on the outside) as it makes rolling so much easier creating stability and steadiness in any rolling situation. The two indented grooves help me separate and sort the herbs as well as give me extra rolling support holding the paper while I just press and roll! Also, I don't have to worry about losing my herbs off the surface since the tray is enclosed with edge moldings.

Small Axe is really onto something for the smoking community. It's great that I no longer have to look for a magazine or continue to ruin my coffee table! My only regret is that no one thought of this sooner.
http://www.small-axe.biz/
420 Girl of the Month also receives a LIFETIME Membership to 420Girls.com​
Last edited: