Small Axe has created a brilliant rolling tray designed to fit on your lap also known as a Suru Board. The Suru Board is an excellent platform for storing, rolling and sorting your herbs that is unmatched by any other product on the market.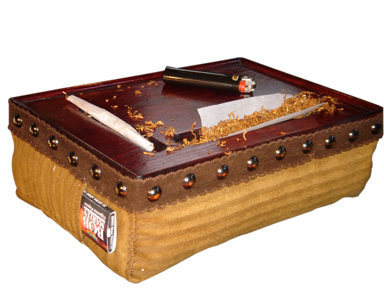 The two slots on both sides make it very convenient to store my lighter, papers and other such smoking accessories. What I find to be the best feature is the padded bottom (made of soft beads on the inside and suede feel on the outside) as it makes rolling so much easier creating stability and steadiness in any rolling situation. The two indented grooves help me separate and sort the herbs as well as give me extra rolling support holding the paper while I just press and roll! Also, I don't have to worry about losing my herbs off the surface since the tray is enclosed with edge moldings.

Small Axe is really onto something for the smoking community. It's great that I no longer have to look for a magazine or continue to ruin my coffee table! My only regret is that no one thought of this sooner.
http://www.small-axe.biz/
Last edited by a moderator: