Take a trip back in time to the fab '60's, for some good clean, adult, smoking fun…..Meet a cast of new characters like Sleezy Weezy, Lusty Linda, Jack Spanner and a "gronk", discover exciting new places like, Mullumbimby, Adelaide, St Marys and Parramatta, learn a secret new language "Aussie slang, with colourful phrases like "Cactus coppers"= bent police, "gronk"=dim witted person, "Pig pay-off"= payment to bent police and "bogus, fungus, cactus"=&#!%*, #!?*&. The Koota game has arrived.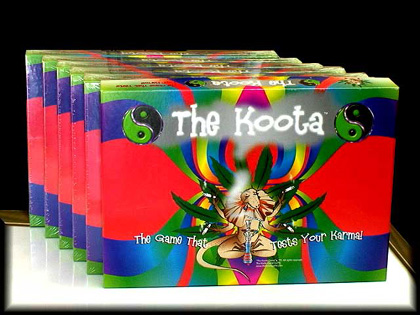 Koota is Aussie for best and is the latest in novelty board games to hit the bong smoking market, at last a cool game you can share with your buddies that lasts a life time. The Koota is the game that "tests your Karma", according to Sue, the games creator, it's the best way to share your cones and enjoy a few hours with ya mates. "It's really easy to learn as it's a basic roll the dice and follow the instructions on one of the 63 game squares, buy and sell kilos of Koota for cash and or credit to become the richest dude and winner of The Koota game. Along the way, if ya miss a turn, you'll just have to "pack everyone a cone", everyone's a winner with The Koota hame".
At around $50 it's also great value and keep you playing for years to come.

The Koota game is available on the web and all good Head shops.
http://www.thekootagame.com
Last edited by a moderator: